Making the Most of Your Small Bedroom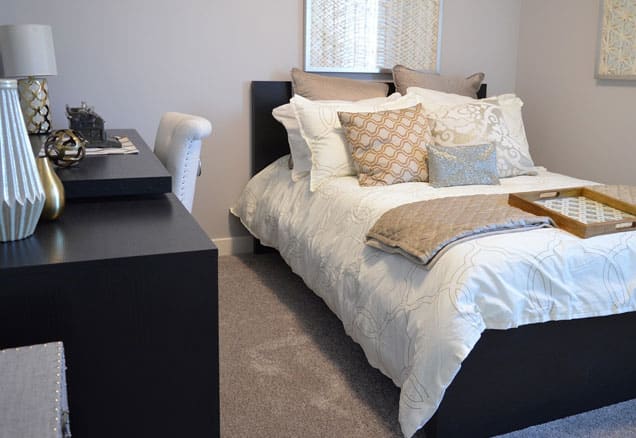 The up-and-coming home buyers, millennials, are in constant search for innovative ways on how to decorate their living space. According to Realtor Magazine, most of the members of Generation Y prefer small and functional spaces, instead of large areas. Those small spaces, a small bedroom for example, require compromises and tricks in order to achieve the desired functionality.
The bedroom is the one room in the house that must provide the feeling of relaxation and peace, and that is why it should not be crowded and claustrophobic. If you are dealing with a small bedroom, take note of these tips on how to make the most of it.
De-Clutter
A research published in The Journal of Neuroscience suggests that physical clutter affects your ability to focus and makes you irritated. Since being irritated is the last thing you want to feel while in your bedroom, getting rid of the clutter is necessary. Observe your room and think about what you really need to keep inside. Probably you do not need all the furniture and especially not all the trinkets you keep around. Think about selling, moving or throwing away some items you do not need.
Use Furniture to Maximize the Space
The most important piece of furniture in your bedroom is your bed. A large bed in a small room will instantly make the space feel cramped, so opt for the size according to the space on your disposal. Choose rectilinear furniture to maximize the space, because curved pieces take up more space and minimize the walking area. Consider acquiring multipurpose furniture, such as bed + book shelves, side table + magazine rack, etc.
Add a Reading Nook
Small multifunctional areas in your room will give it the sense of multipurpose and thus create an illusion of larger space. A reading nook is something that you can pull off regardless of how much available space you have. Just put a small chair or a big fluffy pillow and a lamp in some corner, and you will instantly make your bedroom more appealing and relaxing.
Add a TV. Or Do Not?
This is entirely up to you. If you are spending a lot of time in your bedroom, it is entirely understandable to want to have a distraction. To get the most quality form of amusement you will have to choose a good cable provider. If you cannot decide which one gives more bang for your buck, search your answers in your friends' recommendation and you will decide if you are up for "Netflix and chill" before going to bed, or you are more of a Stan person.
Color and Light
Lighter colors create an illusion of larger space, while darker do exactly the opposite. Paint the walls and the ceiling in lighter colors to open up the room, and try to bring in as much as natural light as possible. However, if you want minimal work done, installing a larger window would be overboard. Consider strategically placed lighting fixtures.
There shouldn't be any space left in the shadows. Because of the limited space, use smaller lighting fixtures such as LED wall lights. Why LED and why this type of lighting? Well, according to the Superlight team , "LED lighting is a new lighting technology which uses much less energy and lasts much longer than traditional light sources". Thus, they are more eco-friendly. Their size and adaptability to small spaces is a plus.
Small space does not deprive you of the possibility to experiment with décor and it is not an obstacle for creating a visually appealing bedroom. Use the tips we gave you to turn your cluttered bedroom into a spacious and relaxing place for resting.
Marie Nieves
Marie Nieves is a student and a blogger who loves unusual trips, gadgets and creative ideas. On her travels she likes to read poetry and prose and to surf the Internet. Her favorite writer is Tracy Chevalier and she always carries one of her books in her bag. Most of her free time at home she spends walking her Labrador Retriever named Max. Marie loves to share her experiences and talk about practical solutions. She is an avid lover of photography interested in interior and exterior design, and a regular author on Smooth Decorator.