In the News…
Britt Hysen on the Blind Entrepreneur Podcast
By Johnathan Grzybowski, The Blind Entrepreneur (June 2016)
If you can't tell by Britt's infectious spirit, Britt not only loves group hugs, cares greatly for others, but she's a awe inspiring story teller. A theme to Brit's life is her love for the arts. At her core, she is a creative. From copywriting, to graphic design, and to other forms of imagery, she makes sure that with every picture she takes, video she makes, that the content is real, raw, and original.
Millennial Magazine has been a life long journey that all started about seven years ago. Britt recalled a story about her "a-ha moment" for starting Millennial Magazine, it was when she worked at CNBC and the Forbes 30 Under 30 hit her desk. The list of names and their occupation were listed in the issue, but never mentioned who they were nor their stories. Britt saw this as an opportunity to create something unique.
Being the creative that Britt was, she dabbled in acting during her later teenage/early twenty years of her life. She recalled a time during her theater days where she met with the CEO of The Discovery Channel. The successful executive mentioned that: "If you're not on YouTube, you're an idiot." Britt took this to heart. That next day she began to document and record her life by interviewing people and telling their stories through spoken word.
Regardless of what Britt went to school for (which wasn't journalism or communication, but instead business, marketing, and management) she became a journalist. As a young woman she was passionate about being an actor but it wasn't what she wanted it to be. Given her background and familiarity with recording stories and the early days of YouTube, Britt had this opportunity to attend Burning Man. Which if you have no idea what Burning Man is, it's a huge multiple day concert filled with hipsters listening to music, barely showering, and absolutely having the times of their lives. At the concert, she interviewed 25 of the top Burning Man artists. This opportunity allowed Britt to be hired for freelance opportunities to create additional content for other brands. It was at that moment, that Britt knew she was onto something.
https://youtu.be/06H9RTWh6WI
This article originally published on TheBlindEntrepreneur.com.
---
How to reach and engage the Millennial target audience – RTNA media workshop
By George S. McQuade III, Examiner.com (April 27, 2016)
Radio, TV and Media experts got a wake-up call at a Radio-TV News Association (RTNA) "State-of-the-Industry" workshop last night (April 27, 2016) focusing on "Millennials". "If you want to target the Millennials, you have to go to them said Keynote Speaker Britt Hysen, founder/editor-in-chief of Millennial Magazine. The magazine was named one of the "top 100 Most Influential Digital Media Sites for Millennials," by the White House. According to the Pew Research Center and U.S. Census Bureau, Millennials, whom we define as those ages 18-34 in 2015, now number 75.4 million, jumping ahead of the 74.9 million Baby Boomers (ages 51-69). And Generation X (ages 35-50 in 2015) is projected to pass the Boomers in population by 2028. "Millennials are so bombarded with information they need a break, and if you want to get their attention, you need to go to them on their platforms," said Hysen.
Hysen said the Millennials watch Youtube, Snapchat, Periscope, Reddit.com,Facebook Live, and Twitter to get their info, and she said they want lifestyle news, short raw stories, real human emotions, inspirational stories, and posts, but 50 percent of Millennials also want hard news. Hysen also noted the younger audience wants less celebrity news. The RTNA media panel also included Moderator Frank Mottek, host, KNX Business hour; Bill Dallman, V.P. & News Director, CBS2/KCAL-9; Paul Glickman, senior editor, KPCC Radio and Judy Muller, USC Professor.
Bill Dallman, V.P. & news director, CBS2/KCAL 9 offered TV and radio newsrooms advice about hiring in TV industry jobs. "Don't hire interns to do your social media, because you need an intern for each social media channel," he told the RTNA event audience. "I have a lot of job candidates who want to work in the TV news business and some don't even own a TV. All media outlets need to hire more Millennials." All panelists agree the younger generation bring cultural and technology skills right out of school. Many have become citizen journalists. USC Professor Judy Mullen said she started a new journalism class on "critical thinking skills, where students analyze articles for logic and sources." She also said she consider naming the course, "Detecting Crap."
"The Millennial audience is the magic bullet that we don't have, "said Dallman at CBS/KCAL-TV. "We thought we had a situation where people growing up were our best allies, that they would want more TV news as they got older, but now we have all these apps such as smartphones, IPad, apps, computers and the Internet. Now, it's a much bigger battle." Thanks to the Internet and technology, TV and Radio stations have been forced to adjust making everything that goes over the air is also online. "The Internet was supposed to kill us, and it didn't," said Dallman. "It made us stronger, but the phone apps might kill us as we see Millennials always looking down at their phones."
Dallman was asked about new trends where celebrities are interviewing newsmakers like Actor/Directors like Sean Penn interviewing a Drug Lord El Chapo, and Spike Lee interviewing Presidential Candidate Bernie Sanders. "I think everyone is trying to get into the media, they want to be producers, for example, Basketball Star Kolby Bryant wants to start his own production company, and they all want a piece of that pie because that's where the influencers are," he explained. "They want to own the company that creates the media. It's a natural progression for people who have been on that side of the camera most of their lives to want to be on the other side."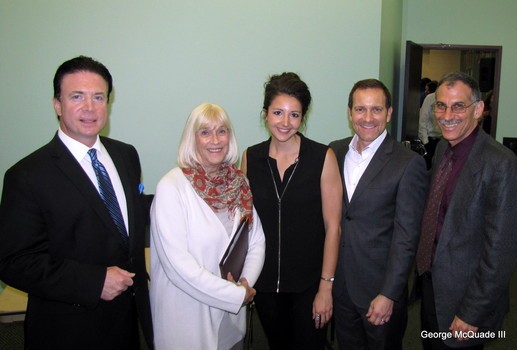 The biggest shift in the news and media business shows that Millennials want to be part of the conversation and love audio apps like Soundcloud, but the newest hottest online trend is podcasts. "They do want to be part of the conversation," said Paul Glickman, senior editor, KPCC, which is one of the first in the country to offer Podcasts of their on-air news and programs. "Millennials are the prime demographic for watching, reading and listening to the news," said Britt Hysen. "If you don't attract those who are in their 20's and 30's right now, who's going to be watching, listening and reading in the future?" Hysen noted that some of the biggest misconceptions about Millennials include being, "lazy, entitled, disenfranchised, and superficial, which is true of any generation," she said.
"At Millennial Magazine we dispel all those misconceptions about Millennials," explained Hysen. "We're promoting the unsung heroes, the social impact, wellness articles, the 'How to' stories and cultural trends of this generation. Millennial is a media lifestyle brand showcasing global millennial influencers that reflect the habits of a conscious consumer – eco-friendly, globally connected, experience driven, and entrepreneurial," she said. "From celebrities involved in causes and CEOs disrupting industries to activists standing up for their beliefs and everyday people making a living doing what they love are the types of stories we publish." The magazine is only online now, but they're searching for a partner publisher to help them provide a printed magazine option. An interesting note unveiled at the RTNA workshop at the Beverly Hills Library auditorium, is the fact that many people who read Millennial Magazine are not Millennials.
This article originally appeared on Examiner.com.
---
The millennials are coming to save America (thank goodness)
By Rick Newman, Yahoo Finance (April 27, 2016)
They buy homes. They purchase cars. They take vacations. The millennials, it turns out, are pretty much like every other generation of the last 70 years.
It's a good thing they are, because the nation's future rests on their shoulders, and it's a weighty burden. The $19 trillion national debt is now 105% of GDP, the highest portion since the 1940s. Medicare is on track to run short of money in 2030. Somebody needs to create the wealth that will keep America humming for the next 50 years, and while they're at it, figure out how to keep humans employed and prosperous as robots continue their march to dominance.
There are 75.4 million Americans between the ages of 18 and 34, which means millennials just became the most populous generation in the country. And their ranks will swell to roughly 81 million by the 2030s,
according to Pew Research
, on account of immigration. The baby boomers, by contrast, number 74.9 million, and their numbers will steadily decline, as immortality eludes them and they begin to die off.
Millennials may seem like unlikely heroes, because they've been derided as "the cheapest generation" and lampooned as narcissistic, lazy, entitled, promiscuous and worse (often by baby boomers who are … the parents of millennials!) Let's say some of this is true. Does it make today's young adults much different from the boomers who blissed out at Woodstock, or the Gen Xers who grew up on video games and "Fast Times at Ridgemont High"? Not really. Blame youth, not cultural rot.
Besides, millennials are acting more like their parents the older they get. "We've been in the workforce for over a decade," says Britt Hysen, 27, editor of Millennial Magazine. "We're already taking over leadership in America. Some of us are running billion-dollar enterprises." Mark Zuckerberg, the 31-year-old CEO of Facebook (FB) is the most prominent millennial business leader, and it's fair to say he represents the mission-driven approach of many cohorts. The CEOs of Airbnb, Box and Glu Mobile are close behind.
Millennials are making their mark on Main Street as well. They now buy more homes than any other age group, for instance, with buyers under 35 accounting for 35% of all sales, according to the National Association of Realtors. And they're not buying lofts in Hipsterville. Just 17% of millennial home purchases are in cities, while 83% are in suburbs, small towns or rural areas. Of millennial buyers, 64% are married and 45% have kids. Not bad for slackers who, just a few years ago, were shacked up in their parents' basements.
Narcissistic? As long as you have a job, who cares.
The unemployment rate for 20-to-24-year-olds, at 8.4%, is 3.4 points higher than for the labor force overall. But the unemployment rate for young workers is always higher. The gap was 3.9 percentage points in 1980, 3.2 points in 1990, and 3.5 points in 2000. So young people have jobs in more or less the same proportion to their elders that they always have.
Purchasing power
No less an authority than Goldman Sachs once declared that "millennials have been reluctant to buy items such as cars, music and luxury goods." Not any more. Millennials now account for 29% of car sales, according to J.D. Power, up from 17% in 2010. As for music, millennials spend about $750 per year on media content, and they're driving the shift away from traditional media to streaming services. "The 'generation that won't spend' is spending a lot on media,'" Deloitte declared recently.
Luxury purveyors have reason to worry, though, since millennials tend to be value shoppers unlikely to pay up for status items, according to a 2016 J.D. Power analysis of this overanalyzed generation. That's a bummer for Cartier and Prada, but it's a shrewd way to shop that ought to leave young consumers with more money to spend on homes, furnishings, cars, and gizmos that drive economic growth, and maybe even Social Security funding.Economists have bemoaned the thrifty millennials since it first became apparent they weren't going to splurge the way their baby boomer parents did. But instead of rejecting the whole consumer economy in a mass repudiation of capitalism, millennials probably just got a late start. "We graduated college into high unemployment, which prevented a lot of us from getting jobs," says Hysen. "Our student loan debt has prevented many of us from having the income to buy a home or car." Worth pointing out: That recession was caused in large part by an unsustainable amount of debt taken out not by millennials, but by prior generations, which caused the worst housing bust in a century.
While the recession held back millennials, it may also have taught them better financial habits than their parents had at the same age. Lots of "boomerang kids" moved back in with their parents after college, for example, earning derision from the hearty pioneers of earlier generations. But moneywise, that may have been shrewd. "Living with parents was a way of saving money," says Nicholas Klisht, a 32-year-old business-development executive who lives in London, Ontario, not far from Toronto. "It helped people pursuing entrepreneurial ventures or trying to start something they cared about."
A recent Gallup poll found that out of four age groups, 18-to-29-year-olds are most interested in saving their money and least interested in spending it; 10 years ago, the same age group showed the opposite inclinations. And a recent Bankrate survey found millennials to be the most financially comfortable of three age groups. They earn less and have lower net worth than older workers, which is natural, but they seem to be the most optimistic about their circumstances improving.
As with every age group, some millennials are unprepared for a hypercompetitive digital economy– especially those who lack a college education or the right set of skills. But for now, the scariest economic threats may face baby boomers, many of whom haven't saved enough for retirement, and the Generations Xers right behind them who have been displaced from their careers with little to fall back on. Their future prospects depend to some extent on whether their kids and grandkids can do better. More and more, the younger generation seems up to the task.
Rick Newman's latest book is Liberty for All: A Manifesto for Reclaiming Financial and Political Freedom. Follow him on Twitter: @rickjnewman.
This article originally appeared on Yahoo Finance.
---
MiLLENNiAL Magazine's Britt Hysen Invited to United Nations Dialogue
Editor among 50 "global millennial influencers", UN Secretary-General Ban Ki-moon, and Nancy Pelosi at upcoming UN's 70th anniversary ceremony.
Los Angeles, CA — (ReleaseWire) — 06/22/2015 — Britt Hysen, editor-in-chief of MiLLENNiAL Magazine, has been invited to attend the United Nation's Charter Commemoration Ceremony this week in San Francisco. She and 49 other "identified global millennial influencers" will also participate in exclusive roundtable discussions on topics that will be up for vote at the United Nations (UN) in September in New York City.
To mark the 70th anniversary of the signing of the UN Charter in San Francisco in 1945, the UN will host a public ceremony on June 26 in the Rotunda at City Hall with 1,000 diplomats and dignitaries, San Francisco Mayor Ed Lee, community members and students in attendance. Prior to the commemorative event, Hysen and her peers will attend a breakout session with the UN anniversary host committee, the UN Foundation, and influential world changers who seek input, feedback and connections prior to the UN's upcoming vote on global Sustainable Development Goals.
"MiLLENNiAL Magazine is honored to have been invited to the UN celebration and I'm excited to take part in discussions that could be the catalyst for positive world change," says Hysen, 26, of Los Angeles.
The United Nations is an international organization founded in 1945, comprising 193 member states. It is based in New York City, and housed in the United Nations Secretariat building. The UN's mission and work are guided by principles established in the founding charter.
The United Nations Foundation mobilizes the energy of social influencers and the expertise of business and non-governmental organizations to help the UN tackle global issues including climate change, health standards, peace and security, women's empowerment, poverty eradication and energy access, as well as U.S.-UN relations.
"The 70th anniversary of the United Nations is an opportunity to reflect – to look back on the UN's history and take stock of its enduring achievements," says UN Secretary-General Ban Ki-moon. "It is also an opportunity to spotlight where the UN – and the international community as a whole – needs to redouble its efforts to meet current and future challenges across the three pillars of its work: peace and security, development, and human rights."
MiLLENNiAL is available digitally at Millennialmagazine.com. The US-based news and lifestyle brand has an international reach, and spotlights both American and International stories.
About MiLLENNiAL
MiLLENNiAL Magazine is an image-centric digital platform for young adults founded by Editor-in-chief Britt Hysen. With a socially minded Forbes-meets-Rolling Stone format, MiLLENNiAL curates news and cultural trends and seeks to honor "average individuals with inspirational stories," as well as millennial celebrities, entrepreneurs and activists working for positive change. Recently, MiLLENNiAL was honored for being among the "Top 100 Most Influential Digital Media Sites for Millennials" by the White House.
---
MiLLENNiAL Puts the Focus on Women at E3
Editor Britt Hysen aims to show that feminism and gaming aren't mutually exclusive.
Los Angeles, CA — (ReleaseWire) — 06/15/2015 — MiLLENNiAL magazine's Britt Hysen, an avid gamer herself, is taking on E3 this week in Los Angeles, with her sights set on women in the industry. The Electronic Entertainment Expo hasn't always had the best reputation when it comes to the representation of women in the gaming industry. Just last year, game developer Rami Ismail's tweet that Playstation continued to feature "more severed heads than female speakers" at E3 became a media sound bite. While it may have raised the ire of gamers who don't want to think about feminism and video games at the same time, it shed light on an issue that isn't going away.
For Hysen and other women in her generation, a love of gaming is nothing new. "Millennial women were raised on video games," she says. "From Donkey Kong to Crash Bandacoot, any child of the 90s was inherently a gamer. It only makes sense that this trait would carry through to our adulthood."
Hysen isn't covering E3 to complain about the lack of women in gaming, but to celebrate the women who are already working (and playing) hard in the industry. Recently, MiLLENNiAL featured Smosh Games' Mari Takahashi, one of the Internet's most famous gamers. As the female voice in the Smosh clan, a Youtube-based gaming channel, Takahashi believes women have ample opportunity in the industry. "I always think there is a place and an entry way for women. In my experience, I never felt like there was this gatekeeper that has kept me from doing anything I want to do in this industry," she says. "I've never felt victimized in any way."
Several female-led titles, including Microsoft's Rise of the Tomb Raider, Skullgirls: 2nd Encore from Lab Zero Games, and Sony's Cosmic Star Heroine and Fat Princess Adventure are rumored to make their first appearances at this year's E3. And, with a rise in games that are gender-balanced and/or feature playable female characters, from Kingdom Hearts to Star Wars Battlefront and its playable female Stormtroopers, woman gamers are seeing themselves increasingly represented. It's a smart move for the industry, which can't ignore the numbers: according to the Entertainment Software Association, 44% of all gamers are female, with women over 18 representing almost twice as many gamers than boys under 18.
"Mobile gaming has made it incredibly accessible for anyone to play," says Hysen. "The stereotype that women somehow aren't gamers is simply not true. We are just as much if not more addicted to our games than our male counterparts."
Whether E3 2015 will buck the "more severed heads than female speakers" trend remains to be seen. But when women do speak at E3, Hysen and MiLLENNiAL magazine will make sure their voices are heard.
MiLLENNiAL is available digitally at Millennialmagazine.com. The US-based news and lifestyle brand has an international reach, and spotlights both American and International stories.
---
Recognizing the Unsung Heroes of the Millennial Generation
Millennial Magazine confidently thwarts the negative stereotypes associated with the millennial generation and urges readers to change the world.
Los Angeles, CA — (ReleaseWire) — 05/22/2015 — Hailed as one of the 'Top 100 Most Influential Digital Media Sites for Millennials' by the White House, Millennial Magazine aims to highlight the positive impact our youngest adult generation has on society and to inspire individuals to take action for a better world.
Millennials are classified as those born between 1975 to 1995 and it is no secret that they commonly suffer from backlash suggesting that they are disconnected from social consciousness, that being unemployed is a choice, and that there is an overall expected sense of undeserving entitlement about them. This negative mindset is what Millennial Magazine wishes to change.
Helmed by 26 year old, Britt Hysen, a journalist and actress who appeared on the first two seasons of Mad Men, Millennial Magazine is dedicated to telling the success stories of the unsung heroes of the millennial generation. From celebrities passionately involved in causes to CEOs disrupting their industries to activists standing up for their beliefs, the magazine highlights the positive social impact of individuals born between 1975 and 1995.
Millennial Magazine is confidently changing the world one step at a time. Its first international cover featuredYao Ming, millennial Chinese NBA basketball star and ambassador of WildAid, a nonprofit organization fighting the world's illegal wildlife trade. The feature successfully raised awareness on the staggering global ivory trade and highlighted the importance of wildlife conservation. From shared posts on social media to participation in activism campaigns, readers the world over chanted in unison on the importance of preserving Africa's biodiversity.
Also featured on the digital platform was Mayukh Ghosh and Raktim Majumdar, documentary filmmakers from India whose mission is to make documentary films a part of Indian mass culture. From southern Asia to the United States, Millennial Magazine has no qualms about featuring incredible people who are flying under the radar yet taking the necessary measures to make their world a better place.
The March 2015 issue of the publication featured Rising Appalachia, two sisters in their 30s who inspire activism through folk music. From spreading the word on the power of locality to encouraging conversations on human rights and equality, the dynamic duo have made it their life's mission to tackle unsustainable issues in a fun, dramatic and sustainable manner. Their story perfectly conveys that there are millennials out there who have the foresight, passion and ability to do something great for the world and not remain apathetic about it.
By thwarting the negative stereotypes associated with Generation Y, Millennial Magazine successfully puts a face to this international demographic and showcases the bounds of accomplishments that they are amassing. The same way Yao Ming and Rising Appalachia encourage others to take a stand for the good of the community, the magazine encourages its readers to take a stand for the good of the world.
According to editor-in-chief Hysen and fellow millennial, "We're bringing out the positivity and showcasing the hard work that all the individuals in our generation are doing and we're essentially positioning ourselves to be the Life Magazine of this era. We aim to give insight into who the everyday Millennial is and what they're doing with their life to improve our world."
There is no better way to get the word out on how powerful millennials truly are than through the media. In today's fast paced and color-splashed world, the louder one preaches, the less one is heard. The only way to make a difference is to walk the talk and that is exactly what Millennial Magazine is doing.
For more information visit Millennial Magazine.
---
Food for Thought: Helping Millennials Change the World Through Mindful Eating
Gen Y is choosing healthy, socially-conscious diets over GMOs. Millennial Magazine is helping them do it.
Los Angeles, CA — (ReleaseWire) — 05/15/2015 — In an age of diet fads, big agriculture, and genetically modified food, Millennial Magazine is working to provide clarity. Ranked as a Top 100 Digital Media Influencer for Millennials by the National Security Council, this fresh news and lifestyle brand looks at more than trends; it dissects popular ideas, busts myths, and promotes the new lifestyles of a healthy, socially conscious generation.
As expected, the site is run by a millennial, editor-in-chief Britt Hysen, who describes the digital publication as a "Forbes meets Life magazine with a social impact twist." It approaches health-conscious lifestyles from all angles: culture, life hacks, news, and – of course – health, diet, and mindful consumption.
Recent issues have covered the benefits of drinking raw milk, easy hacks for improving sleep in this digital age, and recipes that turn something unhealthy (like a hamburger) into a healthy meal (like a gourmet black bean burger.) Articles range from breaking down the latest dieting trends (Paleo, Gluten Free, and even "Smartphone Diets") to highlighting the work of an "edible cannabis chef."
Millennials want to be informed about the way they are living and how it affects the world around them. A 2010 marketing study conducted by Cone, Inc. and AMP found that [millennials] are "civic-minded and active participants" in society and strive to make "a lasting, positive impact on the future." This includes leveraging their purchasing power to influence the global economy – from protesting agricultural giant, Monsanto, for health reasons to boycotting a number of corporations to incite social change. Even altering one's dietary habits is now a practice of social consciousness. Many are moving toward a more natural, organic way of living, where they can identify the source of their food – local or otherwise. That way they can monitor, to some extent, the treatment of animals, fruits and vegetables, the workers cultivating them, and the residents living near those farms who might be affected by its practices.
In a current article on raw milk, journalist Alexandra Zuccaro writes: "Cows that are raised eating natural, fresh grass produce more essential fatty acids in their milk than cows that are simply fed grain. They also live longer and are not forced to undergo the harsh conditions involved in 'factory farms.'" Like many of the magazine's other articles, Zuccaro delves into the nutritious benefits in additon to the social impact of milk consumtion.
Other lead writers are also boldly speaking out against genetically modified organisms used in big agriculture, and continue to highlight ways millennials can circumvent GMO foods, such as through home hydroponics, "Food Forests," and neighborhood farming. Another recent article tackles the "gluten-free epidemic" and the reasons behind the rise in celiac disease, pointing out the potential link to genetically altered foods.
To its community, Millennial Magazine is a refreshing swim from the clutter and "click bait" of other digital media, and provides what most millennials are looking for: a holistic supplement and guide to the new lifestyle they desire. Enough perusing and readers eventually notice there is a call-and-answer in almost every article: a call for better living and an answer consistent with mindful practices.
About MiLLENNiAL
MiLLENNiAL Magazine is an image-centric digital platform for young adults founded by editor-in-chief, Britt Hysen. With a socially minded Forbes-meets-Rolling Stone format, MiLLENNiAL curates news and cultural trends and seeks to honor "average individuals with inspirational stories," as well as millennial celebrities, entrepreneurs and activists working for positive change.
Britt Hysen, editor-in-chief, can be contacted by email at: editor@milmagz.com.
---
Changing the Way the World Sees Millennials, One Issue at a Time
Britt Hysen's inspirational news and lifestyle brand, Millennial Magazine, busts myths about misunderstood millennials.
Los Angeles, CA — (ReleaseWire) — 05/20/2015 — Millennials- the generation born between 1975 and 1995, have received their fair share of negative stereotyping as they've worked their way into their 20s and 30s. To change that perception, actress-turned-journalist Britt Hysen has set out to show the world what Generation "Y" is really about with her up-and-coming news and lifestyle brand, MiLLENNiAL.
While some news media aimed at the demographic maintain a cynical air, MiLLENNiAL strives for inspiration by highlighting the generation's heroes. And inspire it has. With just 37 issues under its belt, The White House has already recognized the digital platform as a Top 100 Millennial Influencer.
What makes MiLLENNiAL Magazine stand apart from the pack is its positive attitude.
"I've seen our generation design masterpieces, build billion dollar businesses, and help save the world," says Hysen, who, before starting her media company, acted on the show Mad Men. "The times we live in can get you down — we want to tell stories that give hope to those in need of a quick pick-me-up. Stories of the champions of humanity."
With over 80 million millennials in the US today, there are plenty of stories to tell. MiLLENNiAL has identified a hundred-plus inspiring influencers in its first year alone, including NBA star and Wildlife Advocate, Yao Ming, free solo rock climber, Alex Honnold, marine activist and model, Ocean Ramsey, Grammy award-winning producer, Alex da Kid, media mogul, Stephanie Horbaczewski, 'Gold Rush' miner, Parker Schnabel, and renagade journalist, Abby Martin.
The Magazine's positivity doesn't mean turning away from injustice. Far from it. From social issues like homelessness, education inequality, and modern-day slavery to conservation and everyday environmentalism, MiLLENNiAL takes a hard look at the world, without giving in to hopelessness.
That hope for the future and the will to change the world is indicative of the millennial generation, Hysen says. And it isn't limited to people born within a certain time span. "Millennial is a lifestyle. It applies to anyone who made the transition from the analog world to the digital world at a young age, but people who transitioned later and embrace those changes can be seen as millennials, too." Add to that the 25 percent of MiLLENNiAL's readership that is over the age of 45 who identify with a conscious lifestyle and the term "millennial" becomes much more inclusive.
Hysen doesn't take her news platform for granted, however, and insists "that through inspirational messaging and conscious action, media has the power to motivate viewers to occupy their hearts."
MiLLENNiAL is available digitally at millennialmagazine.com. The US-based news and lifestyle brand has an international reach, and spotlights both American and International stories.
About MiLLENNiAL Magazine
Founded in June 2014 by Editor-in-Chief Britt Hysen, MiLLENNiAL features the great influencers and issues of the generation born between 1975 and 1995. Before she began her news and lifestyle brand, Hysen worked as an actress, a journalist, and had her own web series focusing on Generation Y.
---
Millennial Magazine Interviews Trailblazers for New Mentor Series
MiLLENNiAL Magazine finds inspiration for its Mentor Series in chats with tech pioneer David Bohnett, digital media veteran Fran Hauser, and music exec Jacqueline Saturn.
Los Angeles, CA — (ReleaseWire) — 05/07/2015 — Nelson Mandela said, "A good head and a good heart are always a formidable combination." It's wisdom such as this that inspires the generations and why MiLLENNiAL Magazine has dedicated part of its online editorial coverage to showcase role models for today's budding entrepreneurs and world changers.
"Our Mentor Series is to pay homage to the great leaders that have paved the path for the millennial lifestyle," said 26-year-old Britt Hysen, editor-in-chief of the digital magazine. "While our platform focuses on the heroes of our generation, we don't want to neglect the heroes of past generations. They have great wisdom to impart, and it's important to remember where we came from."
Social media pioneer and LGBT rights advocate David Bohnett kicked off MiLLENNiAL Magazine's 2015 Mentor Series. Followed by upcoming issues with the exposés of two powerhouse women who have proven themselves in the boardroom and are now sharing their wisdom: Rothenberg Ventures partner Fran Hauser, the former President of Time Inc. Digital (Style and Entertainment), and Jacqueline Saturn co-GM of Harvest Records (a Capitol Records subsidiary), and former Head of Promotions for Epic Records.
David Bohnett, founder of GeoCities in 1994, took the social media platform public, and was quickly acquired by Yahoo! for a head-snapping $3.5 billion. Bohnett has since turned his attention to Baroda Ventures, his private equity and venture capital firm, which seeds early-stage tech investments such as DogVacay, Surf Air and Fab.
"The millennial generation has a much greater sense of the problems in the world and how to contribute to solve those," said Bohnett, who believes millennials' empathy, insight and career skills combine to make a unique formula for change.
A lifelong supporter of the advancement of LGBT community rights and philanthropy, Bohnett also established the David Bohnett Foundation to mentor social activism through scholarships, grants and initiatives in order to develop the next generation's municipal leaders.
Fran Hauser led the acquisition of Moviefone to AOL before becoming the President of Time, Inc. Digital where she brought digital products such as PEOPLE, Entertainment Weekly, InStyle and Essence online. Now a partner at Rothenberg Ventures, a San Francisco-based millennial venture firm, she actively invests and mentors young adults. In particular, Hauser likes to work with enterprising women one-on-one.
Hauser's interest in millennials does not stop there. She's on the board of Young Women's Leadership Network and chairs GlobalGiving, a non-profit crowd-funding platform that has raised more than $100 million for charitable grassroots projects around the world. She also advocates for women and children through the HelpUsAdopt organization – a financial assistance program for prospective adoption families – and for projects such as "Half the Sky," a PBS documentary about gender-based oppression.
Jacqueline Saturn, a 19-year veteran of Epic Records, rounds out MiLLENNiAL's initial Mentor Series trifecta. Now the co-general manager at Harvest Records in Los Angeles, the Nashville native is working with the next generation of unique musicians and projects including Banks, Glass Animals, TV on the Radio, Matt and Kim, The Preatures, and Best Coast.
Because she was mentored by music industry giant Frank Dileo, Saturn embraces her role as a talent developer among dozens of millennial artists. She loves shepherding a pair of other youngsters, too – her daughters, who reportedly adore music as much as their mom. Motherhood and a high-energy career are a juggle, Saturn has admitted, but it's a life she wouldn't change.
"It is incredibly exciting to interview the innovators of the world," said Britt Hysen, a millennial herself. "As young adults, mentors like David Bohnett, Fran Hauser, and Jacqueline Saturn are extremely important and vital to our professional lives. They offer perspective on facing challenges. The beauty of the mentor is to gain knowledge from their experiences, so why not learn from their mistakes?"
About MiLLENNiAL
MiLLENNiAL Magazine is an image-centric digital platform for young adults founded by editor-in-chief, Britt Hysen. With a socially minded Forbes-meets-Rolling Stone format, MiLLENNiAL curates news and cultural trends and seeks to honor "average individuals with inspirational stories," as well as millennial celebrities, entrepreneurs and activists working for positive change. Debuting in June 2014, MiLLENNiAL added its Mentor Series in 2015 to increase cross-generational understanding and to honor those who paved the path for today's millennial successes.
To learn more, visit MillennialMagazine.com