Your Complete Guide to the Best Digital Nomad Backpacks
If you're a digital nomad in the market for the perfect backpack, look no further. This guide to best digital nomad backpacks was written by digital nomads like yourself and is vetted for quality, functionality, and fashionability.
As a nomad, you don't want to settle for any old backpack that's hanging by a thread and barely fits your gear. Instead, opt for travel bags that are functional yet fashionable, large enough to carry basically your entire life in it but small enough to be convenient.
Digital nomads like yourself need a backpack and all the right remote work accessories that keep up with their wanderlust and all the wear and tear that comes along with it, especially as they explore new destinations. But with so many options available on the web, it can be hard to find the ideal backpack for your specific needs.
However, by considering your individual needs in terms of size, features, and style, you can find the perfect nomad backpack for your amazing nomadic lifestyle. Before we hop into the best backpack for digital nomads, let's go over some key features to consider.
Best Digital Nomad Backpack Considerations
Here are a few features you should consider as you search for the perfect backpack for digital nomads:
The Size & Weight
Especially since digital nomads tend to carry most of what they own in their backpacks, it's important to choose a bag that's large enough to fit all of your digital nomad gear. At the same time, you don't want a bag that's too large and becomes such a burden on travels.
This is why I personally love and swear by the 30L Nomatic Travel Pack: It's not too big, not too small, but just right. I had a 75L before this bag and it was such a hassle to deal with because it was way too large for my specific needs.
Quality Of The Material
Quality over quantity is the best rule of thumb for a digital nomad backpack, especially since your bag is going to be your travel buddy pretty much everywhere you go. Sure, it might seem like a good idea at the time to buy a cheap duffle bag from Ross, but you'll be sorry you did when your bag rips randomly as you're rushing through the airport.
It's no fun- trust me, I know.
Instead, it's always a much better idea to invest in the right backpack that's made of durable materials (such as water-resistant material if you can find it). It might cost a bit more upfront, but you'll have a reliable travel bag that goes everywhere you travel to and lives to tell the tale.
A Dedicated Laptop Compartment
Since digital nomads make a living from their phones and/or laptops, you'll likely be best suited with a backpack that provides a laptop compartment that keeps your laptop secure and safe.
You'll also want to make sure that you have enough storage space to keep all of your other gear organized, such as your camera, chargers, snacks, and maybe even an extra pair of flip-flops.
Optimal Security
Let's face it- some places are going to be safer than others, so you'll want to make sure that you're decreasing your chances of theft while on the go. With this in mind, it may be a good idea to look into travel backpacks that come equipped with lockable zippers and cut-resistant material to keep your laptop, phone, and other electronic devices safe and secure.
Affordable Price Point
In many cases in life, it's great to save money and find the cheapest options possible. When it comes to finding the best backpack for digital nomads for your needs, this is not the case.
You don't have to splurge and opt for the most expensive backpack available on the market, but it's important to go for a bag that's going to be durable while serving all of your needs. Opting for an ideal bag is truly an investment that will serve you well for many years down the line.
Without further ado, let's take a look at the top five best nomad backpack options. These are some of the finest backpacks for traveling nomads that'll make you the envy of all your pen pals, without sacrificing durability and functionality.
Best Backpacks For Digital Nomads: Essential Gear For The Modern Nomad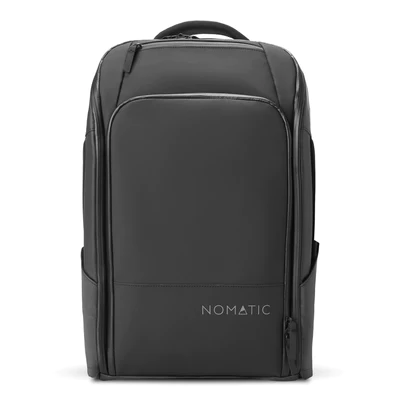 Volume: 30L
Price: $299.99
Weight: 4 lbs
You really can't go wrong with a Nomatic backpack. I've already been mentioning this bag, and for good reason: the 30L Nomatic Travel Pack is easily the best backpack for digital nomads you can find available on the market today. I've had mine for quite some time now, and it's still just about as good as new.
It's truly a very compact backpack that's both functional and versatile and looks very sleek. Here are some of the features this bag provides:
Durable, water-resistant fabric
Easy access full perimeter zipper for a full view of your belongings
Expandable by up to 50% for more space when you need it
Lockable YKK zippers (best industry quality)
20 zipper pockets, mesh pockets, and a lockable security pocket
Laptop compartment with padded laptop sleeve (TSA-approved)
Retractable key leash
Reflective ink on the outside of the bag
Cord pass-through holes for easy access to juice for your electronics
Roller bag sleeve to mount on your carry-on luggage if you have multiple bags
Waterbottle pockets
and more.
I have a Macbook 15″, a Sony a6500, and all the cords, clothes, and small random items you can think of, which all fit great in this bag. One of my personal favorite things is that the Nomatic Travel Pack 30L provides easy access to my laptop and other electronics when I'm going through TSA.
Such a time saver. Many travelers, myself included, consider this one of the best digital nomad backpacks around due to its durability, size, features, security, and everything in between.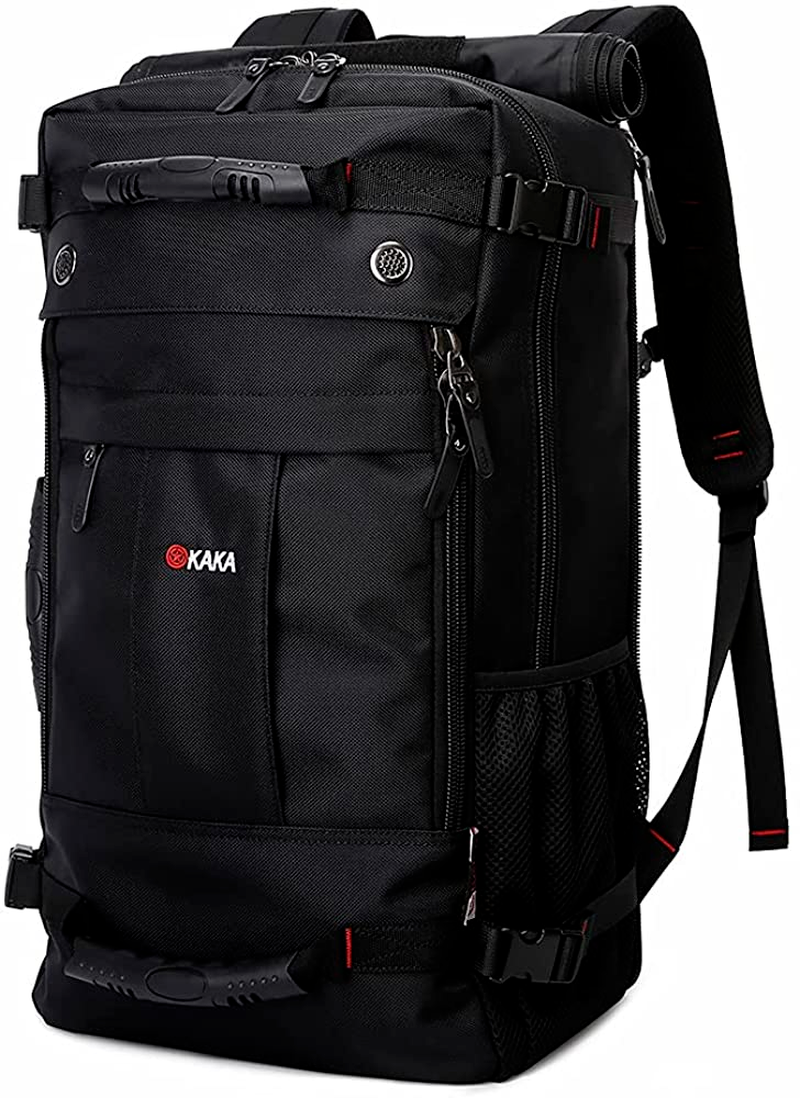 Volume: 35L
Price: $59.99
Weight: 4.2 lbs
If you're someone who just so happens to love duffel bags, then this bag is one of the best you can find.
What's great about this bag is that it is truly multifunctional compared to other bags and serves many needs that a digital nomad tends to have, whether you're looking for an all-purpose travel pack, a hiking backpack, a bag with shoulder straps, a carry-on, etc. Its only downfall is that it doesn't have a laptop sleeve, but that may not be a priority for you if you're working from your phone.
Let's take a look at the KAKA travel backpack's best features:
Made of terylene oxford fabric (known for extreme durability and being water resistant)
Flight-friendly carry-on size
Anti-theft lockable zippers
Padded shoulder straps and backpack straps for versatility
Mesh stuffer pocket, a front zipper pocket, a shoe compartment, and many more storage options to bring your extra gear
Padded straps (waist strap, hip belt, and chest strap for better support)
Several color options to choose from (blue, green, and black)
35L and 40L size options for more flexibility
Another great thing about the KAKA duffel bag is that it comes at a very affordable price point of $59.99 at the time of writing this article. While it doesn't have a laptop pocket, many of my budget-conscious nomad friends swear by this backpack and even take it on their outdoor adventures. It's truly a very practical backpack for just about every scenario you can think of- you won't find a cooler bag around.
This post was originally published on Wayfarewithpierre.com . To read the full guide, please visit click here.